Poster: Peel Good. Get Vaxxed. (multilingual)
This (8.5 x 11, single-sided) poster, available in multiple languages, uses a fruit-based pun to encourage parents to have their kids vaccinated.
Poster Copy:
Peel Good. Get Vaxxed.
Let's protect students against COVID-19. The CDC and American Academy of Pediatrics recommend that everyone 5 years+ get vaccinated lickety-split. Make this year more appealing by getting vaccinated as soon as possible. For more information go to ChildrensOmaha.org/covid. Talk to Your Doctor About the COVID-19 Vaccine Today!
View and download these resources by clicking on the links below:
English Banana Poster (8.5 x 11)
Spanish Banana Poster
Arabic Banana Poster
Karen Banana Poster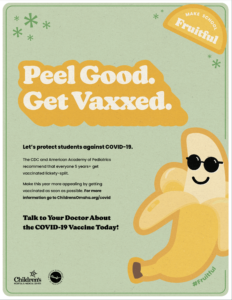 ---
For more information, contact:
Holly Dingman, MS, RD, 
Director Center for the Child & Community
Children's Hospital & Medical Center
402.955.6871 
HDingman@ChildrensOmaha.org